Hi Everyone,
This is my first post here, my name is John,I'm based in Cork and have been browsing through here a lot so I said I'd join in rather than lurking around the background
I got back into aircraft modelling after about 21 years this January, started with an all in one starter kit from Revell, a Eurofighter 1/72, then was bitten by the bug and followed it up with a 1/48 B-17 (Memphis Belle) and then a 1/72 De Havilland DH.88 from Airfix(rough) and finally I have a work in progress of a Mig 23 M Flogger B which I must get done before Xmas(hopefully). I will try to upload some pics of these at some stage to the aircraft modelling section of this forum although they are not much to look at, I would probably receive death threats if I uploaded them to Britmodeller as there is so many inaccuracies and faults, but they look OK to me
Anyways halfway through my rekindled passion for all things wingy I decided to plunge into the world of RC aircraft as it has been something I've wanted to do for a long time, the bad news is that its even more addictive than plastic kits haha.
I started with a Hobbyzone Supercub which is a really great first plane, a great trainer, I purchased this with Pheonix flight Sim so wasn't going in blind on first flight and haven't had much trouble with it. The only thing id say is disable the anti crash technology they have built into the plane as it is the only thing that has made me take a bad crash, the sensors are very poor and invariably get it wrong and try to correct your flight when all is going well which can turn ugly quick.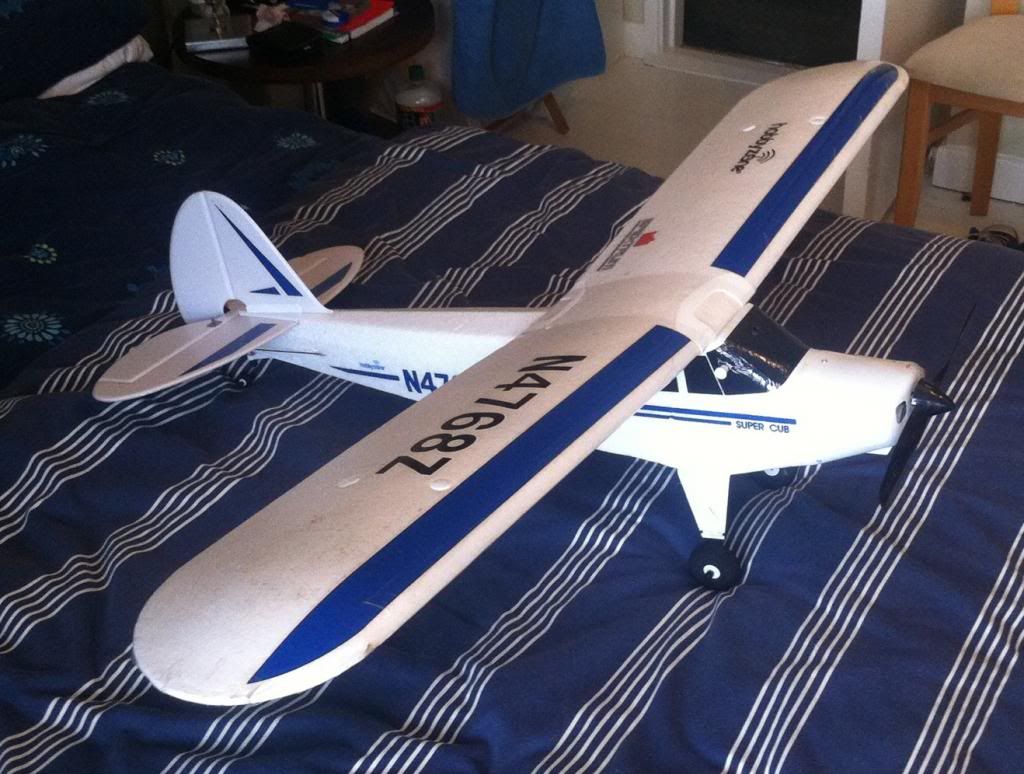 So I could fly the Supercub pretty well and it all started to be less of a challenge so I decided to get another plane, I may have jumped the gun just a tad as you will see below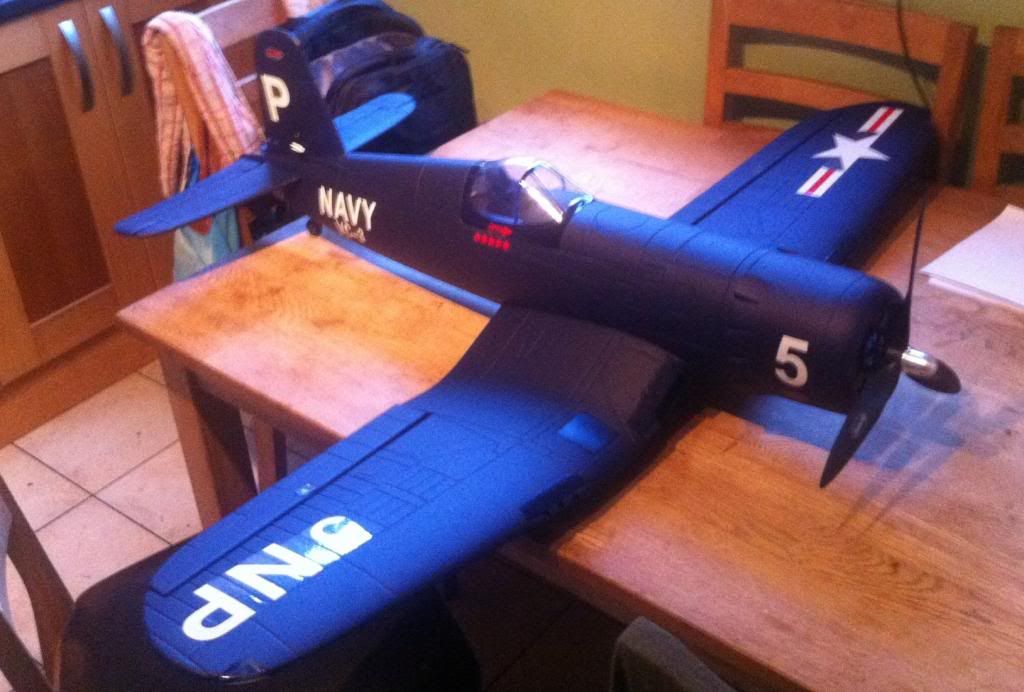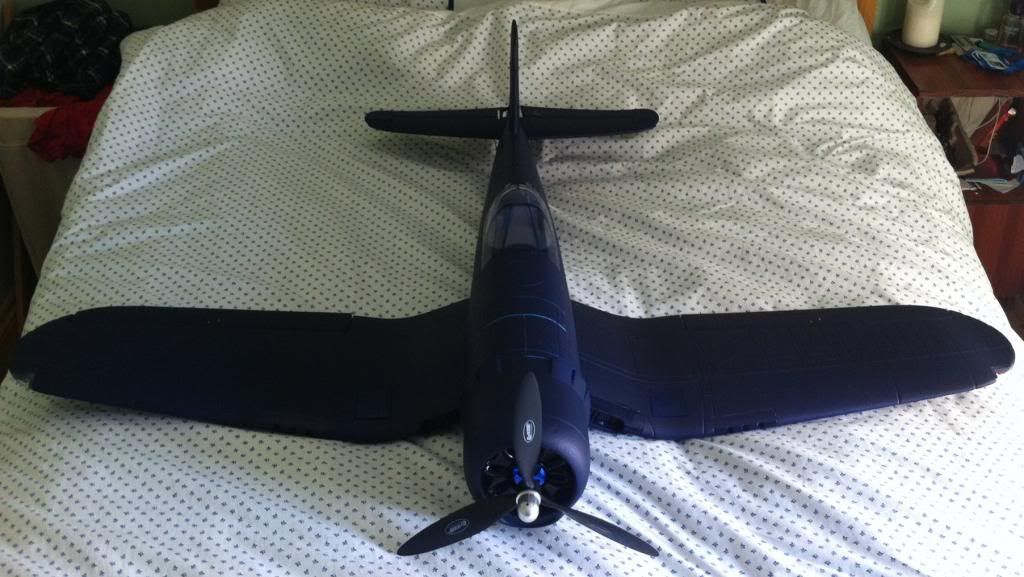 This beast is the Dynam Corsair, it has yet to have a flight longer than 10 secs due to reversed aileron servo control, a mistake you make once and also a tail heavy CoG. Even finding somewhere to fly it was tough, it not the easiest to take off from anything other than concrete or very short grass making it harder than usual to get a chance to fly her, hand launching is not an option. The few spills it took didnt do much damage, stripped a servo alright and I had to break out the foam glue once or twice but nothing major. The best thing about this plane is that I learned a lot with it, I am going to put it on hold for a while until I am more confident as a 4channel flyer.
The next step on my journey was a self build, I dont know if any of you follow the Flitetest lads on Youtube but their channel is really great for all things Rc Aircraft, they are passionate about making it as easy as possible for people to get into the hobby and so made plans available for a variety of planes etc to be made from scratch. Myself and the girlfriend made the Spitfire together, it turned out pretty good, I cant recommend getting stuck into one of these enough, it was great fun, I made it with foamboard bought in Cork arts supply, some hot glue, sharp blades and little else. You can order your cheap electronics from Hobbyking and away you go, the best thing is that the power unit of each plane is detachable meaning you can swap between the different planes you build just by pulling it out of one airframe and inserting it into another.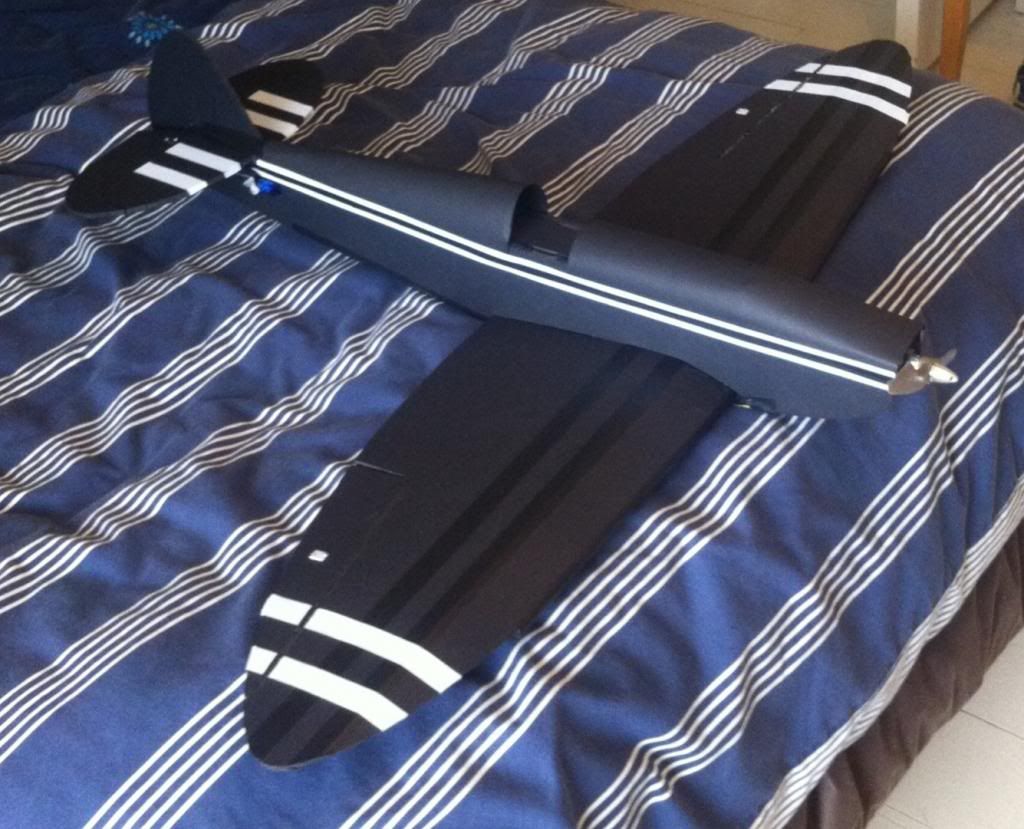 Flitetest channel:
http://www.youtube.com/channel/UC9zTuyWffK9ckEz1216noAw
Site:
http://flitetest.com/
I have yet to maiden the Spit, just putting the final touches to her now, should be up soon.
I thought a good way for me to get more in tune with 4 channel flying would be to get a profile foamy and practice with that, these can be flown pretty much anywhere due to their size and are extremely durable so are ideal for learning. The one I got is fully 3D capable but I have high dual rates and exponential set to tame it down, once I start getting comfortable with that I will slowly up decrease the expo and unleash the full power of the large control surfaces, this plane will help me with the Corsair and Spit flying, It flys great, I have taken it up a few times now and it just floats if you want or can be quite nippy also, its just great for getting used to the controls without worrying too much about crashing.
RC Factory/Twisted Hobbies - Edge 540: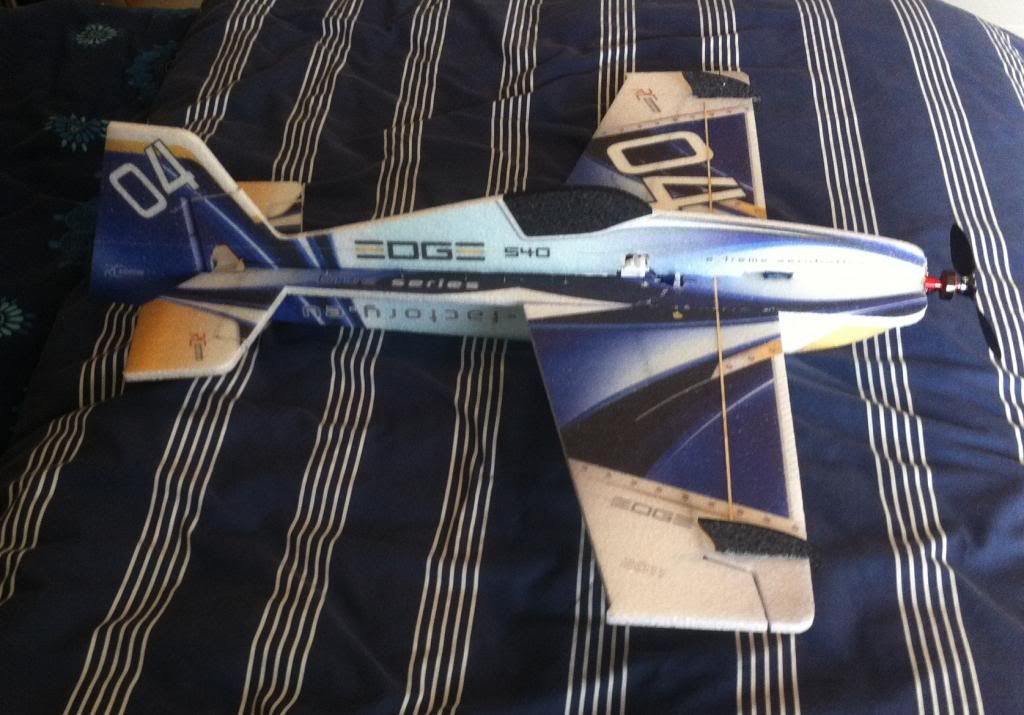 So as you can see I got fairly stuck in pretty quick, it really is a great hobby though so I could be doing worse with my money, I was wondering is there any Cork clubs that run regular flight meets or anything like that, I have just been flying in the park in Ballincollig, the one by the weirs, it is pretty quiet first thing in the mornings although the winter is closing in so there is too many opportunities to fly anywhere anymore unfortunately.
If anyone is thinking of building one of the Flitetest planes and has any questions please feel free to ask, I'd highly recommend giving it a go.
Well sorry for the huge post, hope some of you find it interesting